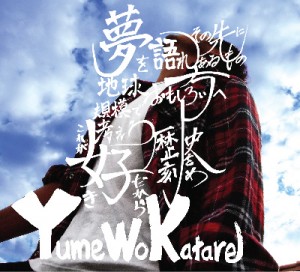 夢を語れ
-Yumeo Wo Katare-
高田リオン



ポータースクエアにオープンしたラーメン店『Yume Wo Katare』と日本のラーメン店『夢を語れ』『その先にあるもの』『地球規模で考えろ』等のテーマソングを集めた、ラーメン店とミュージシャン高田リオンの異色コラボレーションアルバム。
そのホットでストレートな歌声は、ラーメン同様パンチのある味わいです。
満腹満足間違いなしのアルバム、満を持してリリース!!
Unique collaboration album with musician Rion Takada and ramen restaurants include theme songs of "ramen restaurant".
"Yume wo katare" opened at Porter Sq and other ramen restaurant "Sono Saki Ni Aru Mono", "Chikyukibo De Kangaero" at Japan.
His hot and straightforward song are as impressive as yummy ramen.
This album, which will leave you with a full and satisfied is released now!!
Song List
1. "夢を語れ" (Yume Wo Katare) [JP ver.]
"Express Your Dream [JP ver.]"
2. "地球規模で考えろ" (Chikyukibo De Kangaero)
"Think on a Global Scale"
3. "歴史を刻め" (Rekishi Wo Kizame)
"Carve Your Own History"
4. "その先にあるもの" (Sonosaki Ni Arumono)
"The One Beyond"
5. "面白い方へ" (Omoshiroi Houhe)
"Destination: Fun"
6. "これが好きだから" (Kore Ga Suki Dakara)
"Because I Like It"
7. "Yume Wo Katare" (Yume Wo Katare)[EN ver.]
"Express Your Dream [EN ver.]"
Credit
All Songs, Lyrics, Vocal & Acoustic Guitar: Rion Takada
Piano, Keyboard & Bass (programming): Ittetsu Nasuda
E. Guitar: Matthew R. Hillyard on Track 5, 6 & 7
E. Guitar: Masato Shinohara on Track 3 & 4
Drums (Programming) & Synth: A2C
Arrangement : Yuki Onishi on Track 1
Rap: Quelli Hy Mixing &
Mastering: Thayer Harris
Executive Producer: Atsushi "A2C" Tanimura
Co-Producer: Zawwynn Tan
Art Director: Daiki Sakai
Produced at A2C Productions, Boston, MA
Special Thanks: Yume Wo Katare Boston Ayako Ueda